Taravao:
My first Anchorage in Tahiti was Taravao. This is a so called 'hurricane hole'. That means that it is the 'safest' place to be if a hurricane arrives. What makes it so safe is that Taravao is tucked in between two mountains and the holding is mud. Unfortunately this also means that in Taravao will you have rain and wind almost every day because of the mountains and no visibility in the water because of the river that made the nice mud anchor bottom. There are good things about Taravao too, town is within walking distance where they have a cozy internet place plus all kinds of hardware stores (sailors love hardware stores). The marina does not have the cheapest place to haul the boat but the people that work there are great. I did not get to know everyone but the Sail maker, the man who hauls and the bar owner is all great people. The only problem is of course the language. I don't speak French and that makes it a bit hard since everyone else only speak French.
Marina Taina, Papeete
After spending almost one month in Taravao Christmas arrived and i went to Papeete to spend Christmas eve with Paul on Tafadswa. Words can not describe how jealous i was of his anchorage. As mentioned i was in Taravao where it rains constantly and swimming is unheard of because you can not see anything and it even feels 'dirty' there. At Pauls place it was heaven. Anchored in 3-4 meter of water and with perfect visibility, it was perfect. When Tim came for a visit we spent a week or so settling him in on the boat and then we sailed up to Marina Taina in Papeete. This is where i am now writing and waiting for the papers to be done, it is truly great here, i will go outside right now and take two pictures, wait a little,,,,,, ok, it's done. you can see it on the right side.. So now you can see my surroundings, it is nice. The marina is great too. They are letting the cruisers on small budgets (like me) stay on anchor, take water and park the dingy in a safe place. The marina is getting a 2 million dollar upgrade with new everything and they are almost done. The bar/restaurant is the newest in town and all the rich people are there all day But the owners have thought of us too and applied to be able to sell beer for a special cheap price because of all the cruisers and it is now one of the cheapest places to get a cold beer. This is also the first place on the pacific side that i have been able to get online from the boat. Two weeks ago they launched internet for cruisers and with a small antenna hooked up to the pc i can get internet form my anchorage. If one buys a package of 50 hoers it is even cheaper than the internet on land.
Places to go and things to see:
Tahiti is not where the tourists that comes here come to see, almost all of them go on to Moorea, Bora Bora, Huahine, Raiatea or Teitiaora (Malon Brandos private island). Tahiti is downgraded to where people change flights but there are some things to notice here too. The most famous ones are Venus Point where Captain Cook set up the observatory to study the transit of venus and the Teahupoo Wave. The surf spot called Teahupo is up there with the three best waves in the world. This is the wave that world famous surfer Malik Joyeux (died in dec. on Hawaii in surfing accident, good bless) grew up on. There are a few waterfalls, an interesting cavern and good hikes. The most fun i have had here is probably the hitch hiking. I think i have written enough about this earlier but it is only because it is the best. I recommend everyone who is planning a visit to French Polynesia somewhere to try hitching. You meet many interesting people and sitting on the back of a pick up truck is so much better than the over-air-conditioned-bus-that-is-doomed-to-make-you-sick.
Visitors and people i got to know.
Here i met a lot of new people and are already looking forward to meeting them again some-where along the road but my neighbor Bernard is worth mentioning again. He was just such a great man. Even with a bad back he spent hoers sowing my sail just to help out. My good old friend Tim came so see me for a month and recently i had a visitor from Norway. Well Norwegian at least, Svein had was on his way home from Maxis boat in the Marquesas (Maxi will get his own chapter later ;-) and after speaking on the phone with me decided to take three days extra to see Tahiti. We had a great time, Thank you Svein for all. I also got to know the customs better than anywhere else because they came to the boat two times in one week? At this time i did not have a visa (expired) but they failed to look too close in the passport witch was just fine by me.
Kjell O. Stave
Taravao
Taina, Papeete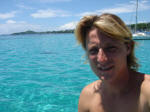 Two weeks ago
Places to see.
New Friends/Visitors
'Svein'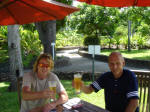 'Tim'